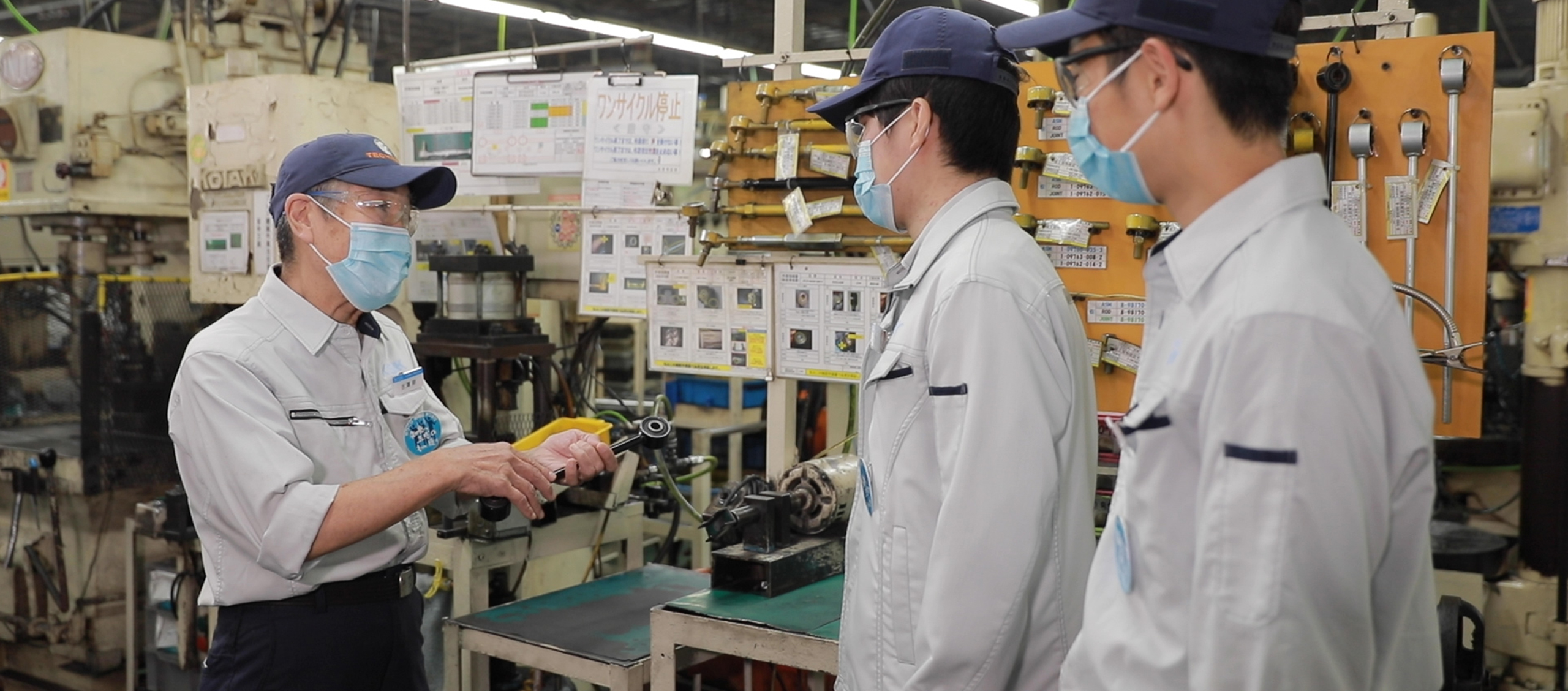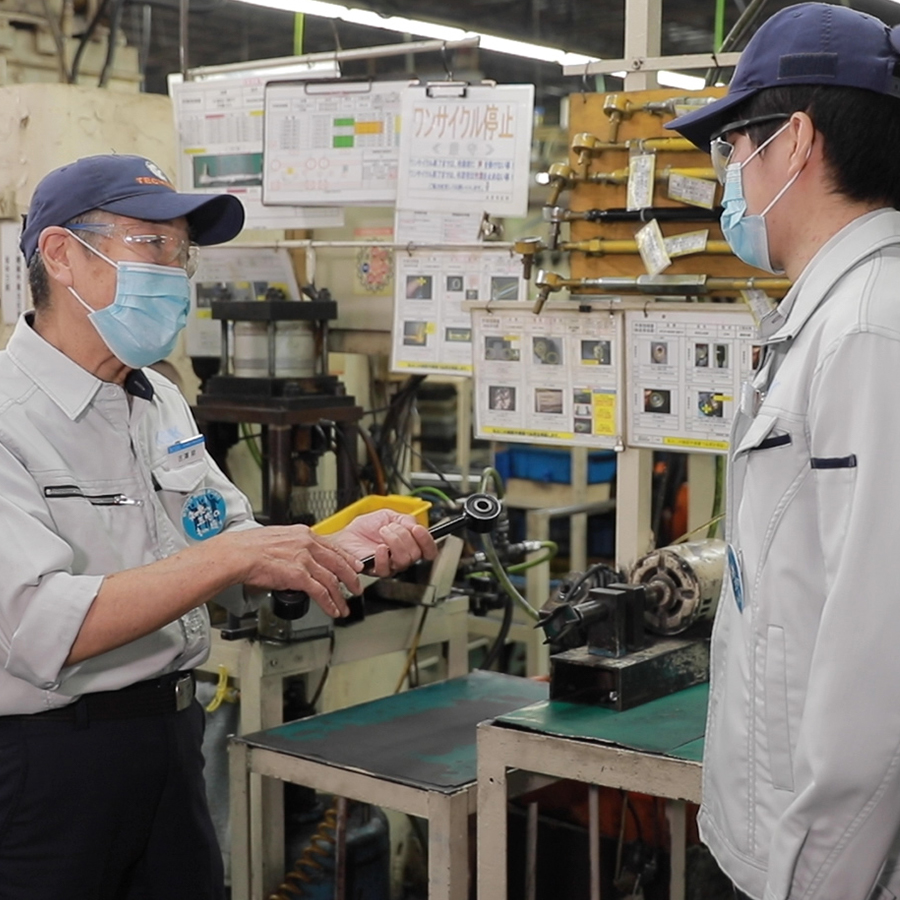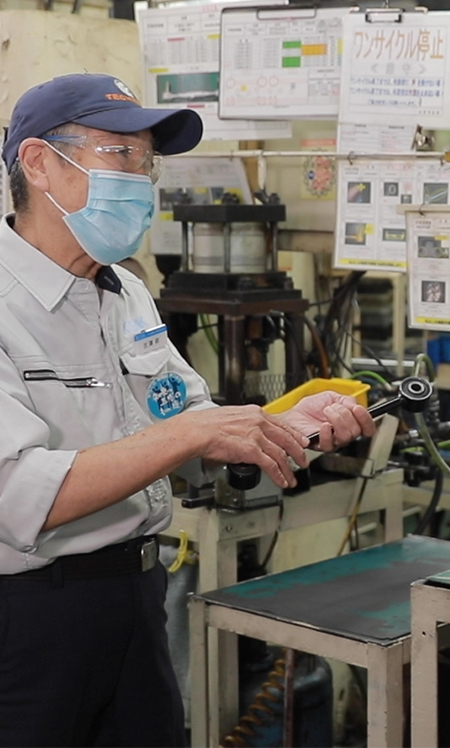 KSK IS A 'FAMILY'.
KSK takes greater care of its employees than any other company. We ensure that all staff can work safely and with peace of mind. What's more, we believe that all employees are members of the KSK family. We have revised our regulations to address the work-life balance, and we will do everything we can to continue improving this in the future.
Age-Free Company
Our Vision Of A 'Reputable Company'
A Working Environment for the Well-being of our Employees
Our staff is becoming increasingly diverse, and we are addressing this under our slogan of an 'Age-free Company'.
We are pushing ahead with reforms and improvements to create an environment in which everyone can work comfortably – e.g. mothers of small children, the elderly, or those with disabilities. KSK respects diversity, and is striving to create conditions that are conducive to long-term working relationships.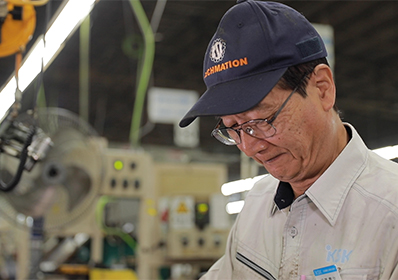 Keeping a Close Eye on Quality
Passing Knowledge onto the Next Generation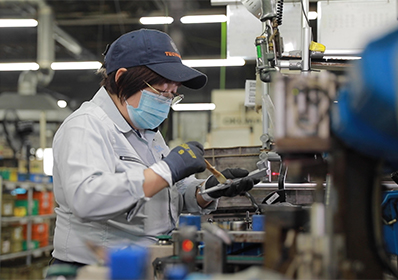 Senior Workers Assuring Quality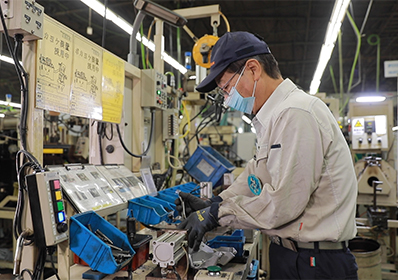 Technical Skills of Senior Workers
7 %
Percentage of employees older than 60
30 %
Ratio of Mothers with small Children / Total No. of Women
7 %
Percentage of employees older than 60
30 %
Ratio of Mothers with small Children / Total No. of Women
Multi-Skilled Operator
Developing Staff with Practical Skills and Kaizen Capabilities
The extensive training we provide to our operators results in better technical skills and increased productivity. KSK places great importance on training multi-skilled operators, capable of handling a wide array of machines and operations without compromising quality or productivity. 'Multi-skilling' involves learning machining techniques, as well as building up Kaizen competence and a high degree of sensitivity for all aspects of manufacturing.   
Barrier-Free Factory
Addressing Diversity
Transforming Factories into Universally Accessible Spaces
There is a global trend for societies to become more diverse. We are committed to creating a more diversity-friendly environment. KSK has improved working environments and lightened workloads to enable women and the elderly to work safely and with peace of mind. By focusing on 'barrier-free' spaces, we have already achieved significant results, and there is still more that we can do, e.g. by greatly reducing the noise level in the die-casting factory, by simplifying our operations, and by creating handling assistance devices for various equipment in our processing plants.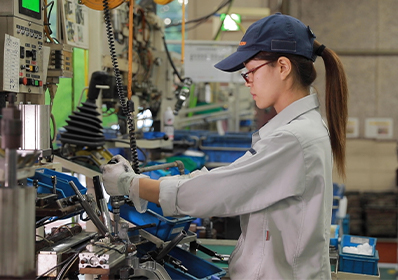 Fastening Device with Force Support (Assembly Line)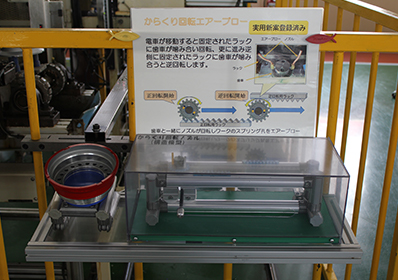 Karakuri-automated Air Blow (Processing Line)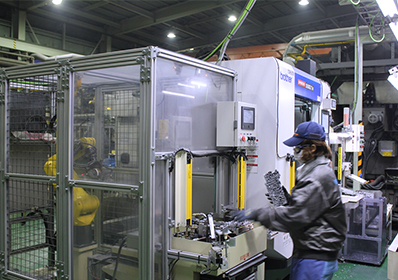 Deburring by Robot (Die-cast Finishing Line)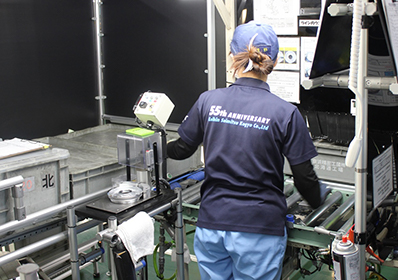 Handling Assistance Equipment (Inspection Process)
5 lines
Nadeshiko Lines with Female Workers only
>100
Number of Barrier-free Improvements Implemented
5 lines
Nadeshiko Lines with Female Workers only
>100
Number of Barrier-free Improvements Implemented
Working Style Reform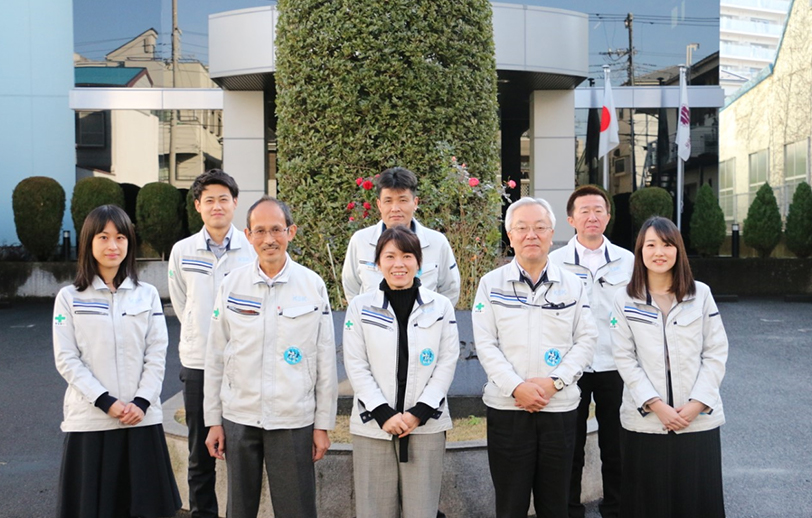 What We Mean
A Safe and Secure Environment for Everyone Regardless of Age and Gender
'Age-Free Company' and 'Barrier-Free Factory'
Main policies:
1. Reorganize our business processes and use management tools to increase the use of paid leave.
2. Introducing a system of parental leave
We consider Working Style Reform to be a crucial management topic and are implementing measures across all departments.
100% Utilization of Annual Leave
Building up a System where Everyone can Plan and Take Vacation
In 2016, preceding the working style reform our company adopted a system of 5 days annual leave for all staff.
In April 2019 it became compulsory for workers to take five days annual paid leave, and all our staff have achieved this. In 2020, all departments began monitoring to ensure that staff are taking up all their annual paid leave.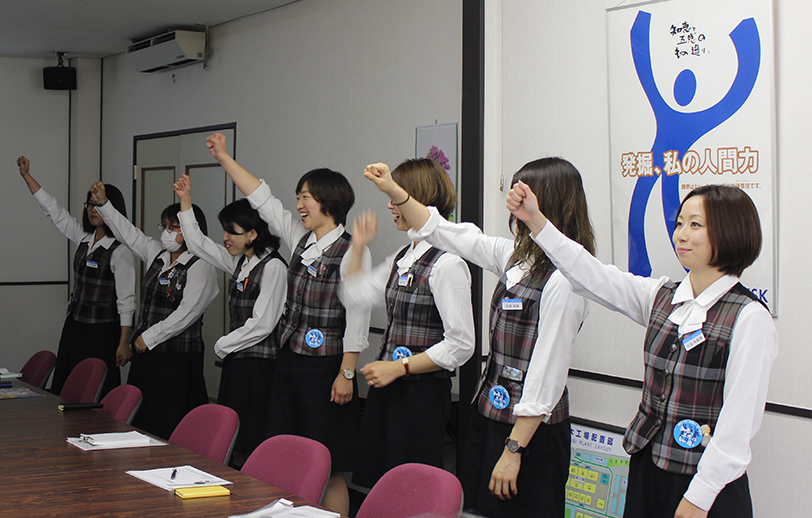 Working Environment from a Female Perspective
Reviewing and Improving Organization and Workplace
To promote changes in the way we work from a female perspective,
① we launched 'Palette', a female committee to promote activities.
② Activities are underway across all sites and divisions.
Planned future initiatives:
① Establishing a system for fluid work schedules, including flextime
② Expanding rest areas in the factories.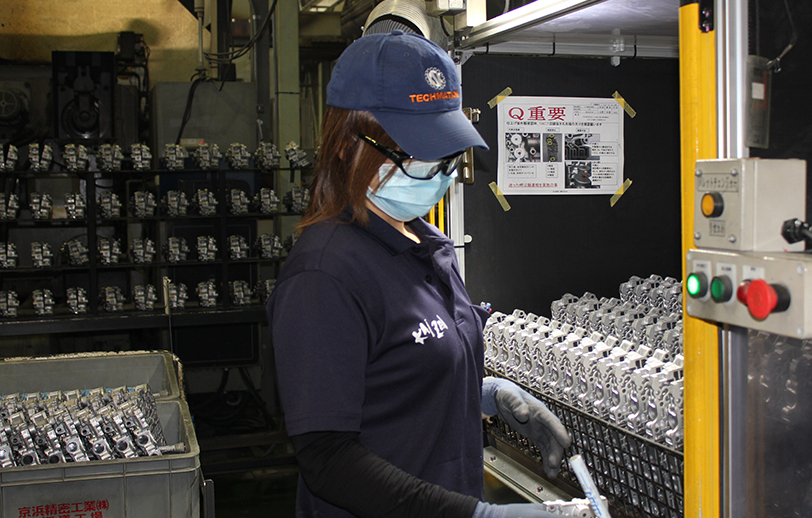 The Hokkaido No. 5 Plant
Nadeshiko Factory ('Carnations Factory')
KSK has improved working environments and lightened workloads to enable women and the elderly to work safely and with peace of mind. As part of this, the Hokkaido No.5 Plant has been ranked as a model factory in which women play the leading role. Ever since the new plant started operations in 2016, we have actively adopted improvements based on the female perspective, and we have achieved much success. All twelve production lines were converted to barrier-free lines in May 2020, turning the whole plant into a Nadeshiko Factory ('Carnations Factory'). We have more workplace improvements in the pipeline.
Overseas Training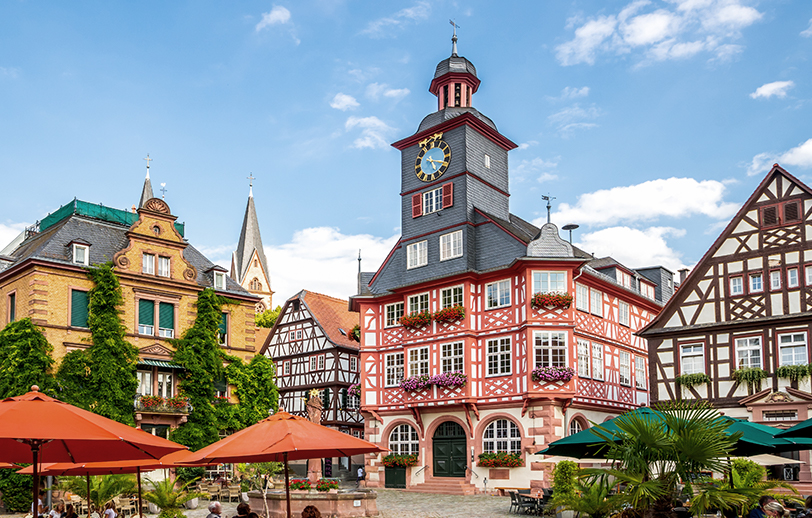 Learn from the Front Runners
On Top: Excitement and Motivation for Personal Development
We run a variety of overseas training programmes to ensure our staff are able to work on an equal footing around the world. As of 2020, more than half of our employees have travelled abroad to sample the technology and culture of other countries. This experience nurtures personal development and develops an international perspective. An increasing number of our employees are selected for such training within two to three years of joining the company.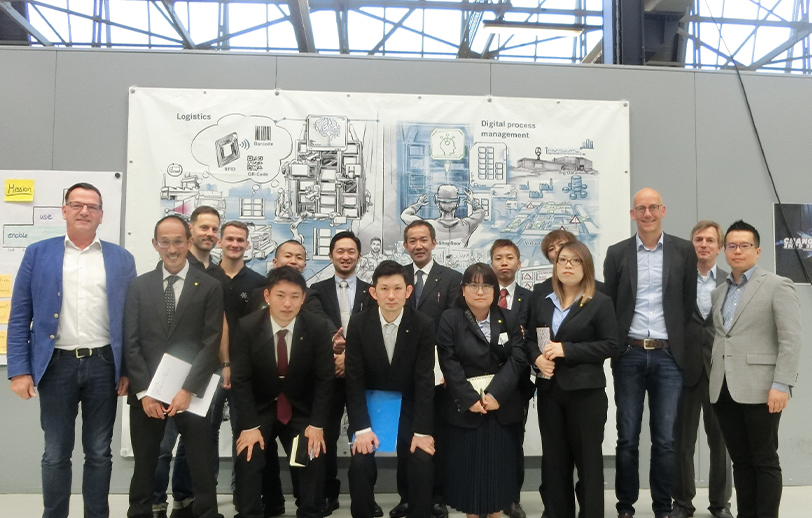 Nurturing People
A Global Perspective for Personal Development
At KSK, we nurture people who can take on the world. We train people to be able to compete on a global scale and to communicate KSK's technology to the world. With Kaizen as our watchword, we have developed close relationships with many large international companies, including bluechips such as Daimler, Porsche, and fischer.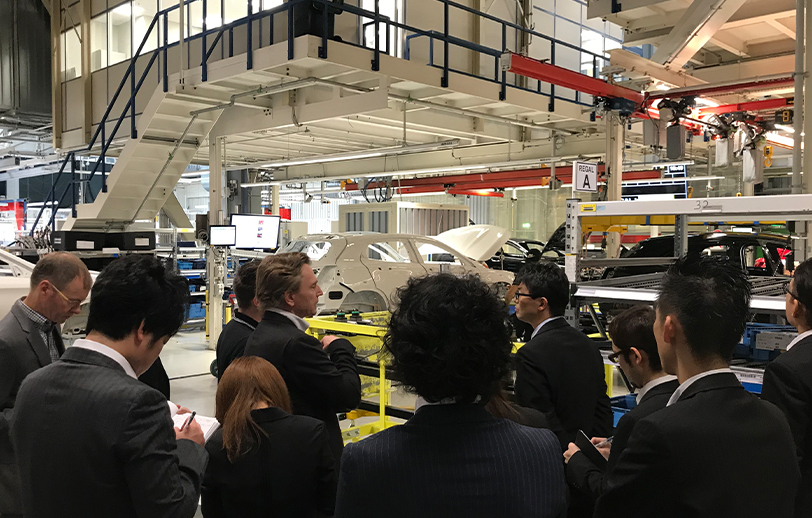 Training in Europe
The Roots of KSK Overseas Training
Launched in 2010, we select around ten people annually for their excellence in improvement activities. Visits to the factories of our European Kaizen exchange partners fischer, Daimler, and Porsche provide opportunities to learn about the historical growth and vocational training systems of companies in other countries. We encourage our employees to broaden their horizons and develop as cosmopolitans by giving them an insight into the life and culture in Germany and beyond.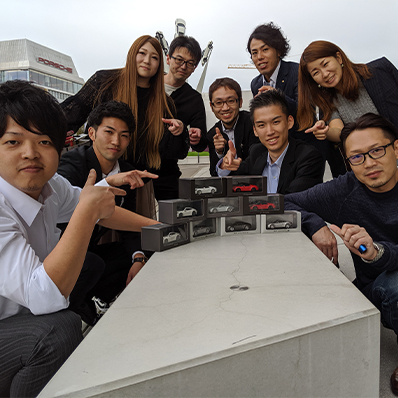 Taking a Break in Front of Porsche's Headquarters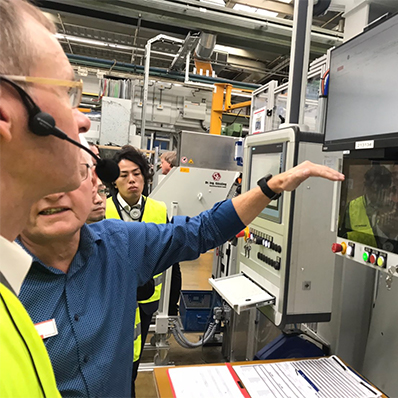 Learning from our Exchange Partners: fischer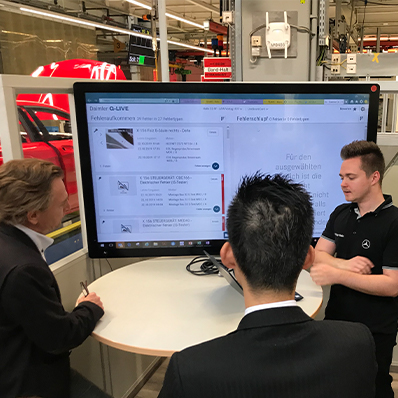 Learning from our Exchange Partners: Daimler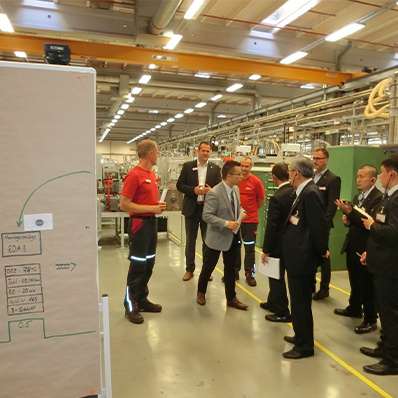 Learning from Various Improvements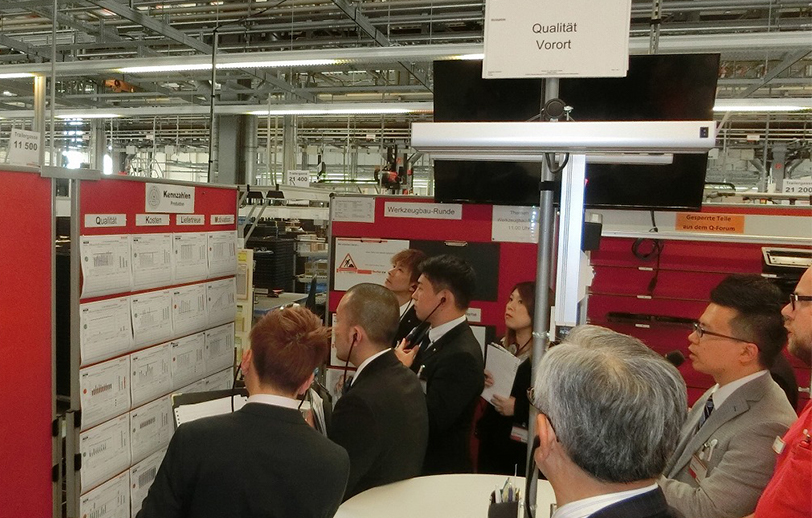 Exchange Program with European Companies
Setting Topics and Delving into Each Other's Speciality
Starting in 2014 with fischer, the concept of 'learning from each other in depth by focusing on each other's strengths and educating each other on evolving technologies and systems' has continued every year with several participants selected, who can expect to improve their skills significantly. Recently, we have been learning about digitalisation, AI and IoT, as well as areas for improvement.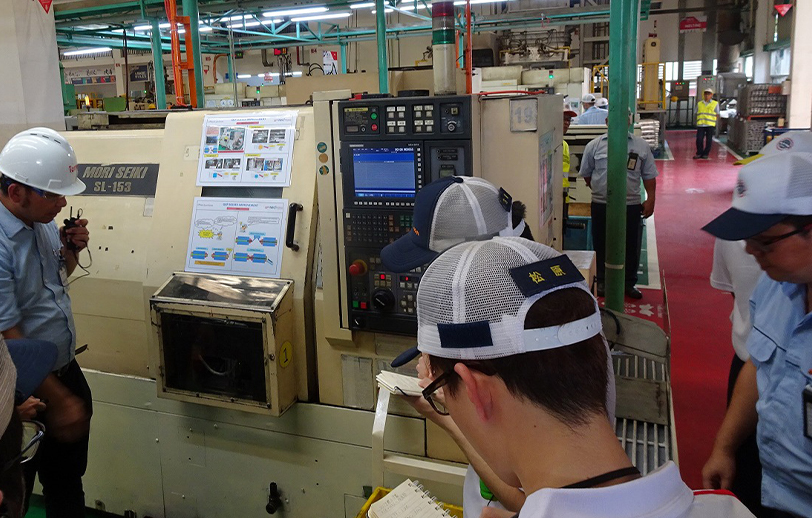 Kaizen Exchange in Indonesia
Teaching Kaizen and Learning from the Transplant
Activity launched in 2011, we visit PT. Nusa Keihin Indonesia (NKI), our subsidiary in Indonesia, to mutually report on our improvement activities and to hold Kaizen workshops. By experiencing the Indonesian culture and economic environment, we expect our participants to develop – both as skilled workers and as global citizens.
Market Surveys and Study Tours
Yet Another Way to Develop Our Staff
Market survey tours were initiated in 2011, while study tours started in 2018. The aim of the program is to develop staff with a broader perspective and greater awareness – not just in relation to the automotive industry, but by experiencing and studying the industry, economy, culture, lifestyle and social infrastructure of another country. To understand what is happening in the world today, staff should be able to get a real feel and grasp reality at the local level. In this way, we are developing people that we can depend on.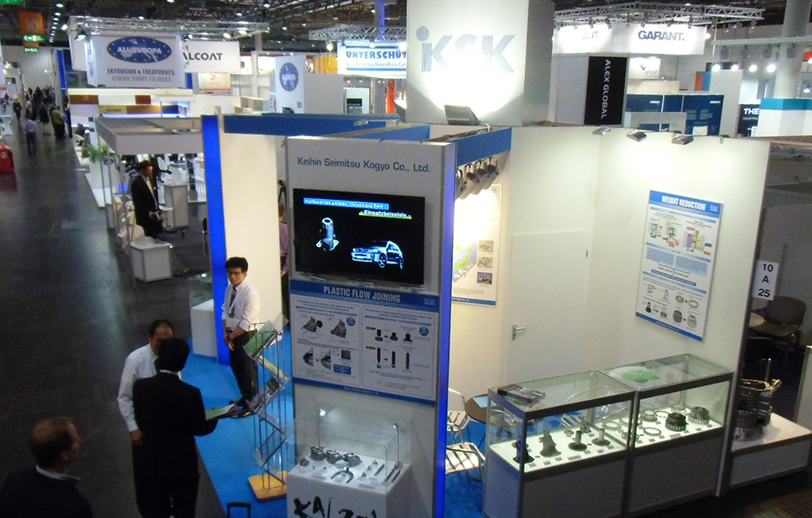 Exhibitions
Presenting New Products and Learning at the Same Time
We participated in the 'ALUMINUM' exhibition and the CTI exhibition of driveline components in Germany to promote our new technologies and products and to learn about the various advanced technologies exhibited from all over the world. The technical members involved were able to broaden their horizons and increase their knowledge of the latest technologies being developed globally.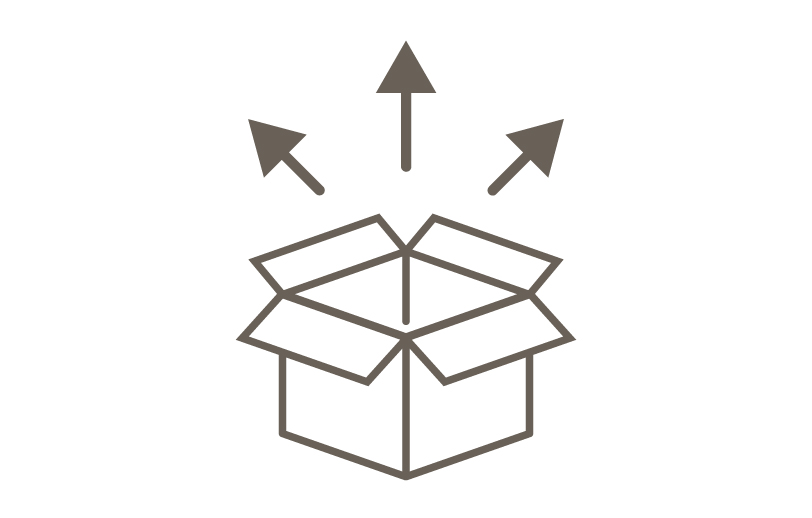 Start-up Activity
Challenging the Unknown. Venturing into new Domains. KSK's Tomorrow Has Already Begun.
Our newly established 'Start-up activity' program will be initiated in July 2021. We are aiming to increase our relevance as the partner of choice for our customers - and to create new knowledge across our departments. We are encouraging thoughtful and inquisitive employees to come up with ideas and then announce: "I would like to try this out!". The program will foster innovative ideas not limited to the automobile industry. Free thinking shall create innovations and new business opportunities. This contributes to society as well as to business diversification. KSK will support this extensively so that teams can proceed at high speed.
Find out more about us